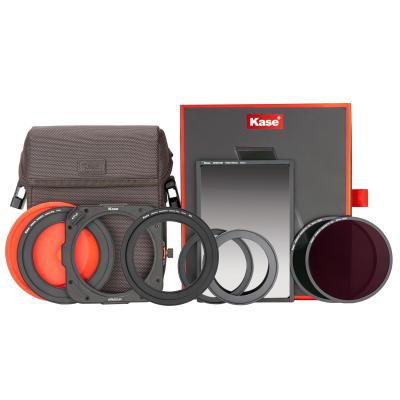 $618.75
618.75
Estimated Delivery 10-14 Days
SKU 1111090019
More Details
Armour 100mm Filter Holder
Magnetic Circular Polarizer
Magnetic ND1000 10-Stop ND 3.0 Filter
100x150mm 0.9 Soft Grad 3-Stop ND Filter with Magnetic Filter Frame
77mm Magnetic Adapter Ring
82mm Magnetic Adapter Ring
67-82mm Step Up Adapter Ring
72-82mm Step Up Adapter Ring
Lens Cap and Soft Filter Bag
The Kase Armour System incorporates round 95mm magnetic filters that fit into the round opening of the filter holder. The round magnetic filters can be rotated with a cog wheel on the filter holder, allowing you to use the magnetic filters independently of the 100mm filters.
The kit also includes a 100mm Magnetic Soft Grad ND 0.9 filter that attaches to the holder with the included 100x150mm magnetic filter frame, as well as two step up adapter rings (67-82mm and 72-82mm) as well as a 77mm and 82mm adapter ring, allowing you to use the Armour filter kit on a wide variety of lenses.
Please Note: Armour is not Compatible with Kase K9, Wolverine or Skyeye Magnetic Filters.