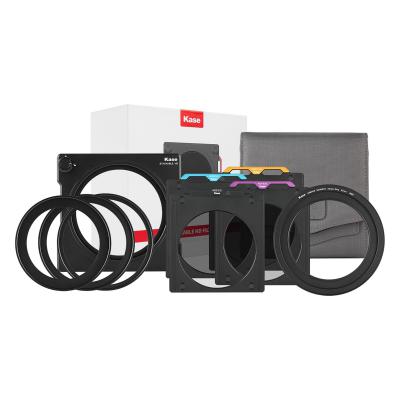 $435.00
435.00
SKU 1123040002
More Details
Includes:
1, 2, 3, and 4 stop color coded ND filters
Filters can be used individually or combined
Filter holder and 82mm Armour adapter ring
67-82mm, 72-82mm, 77-82mm screw-in step rings
Filter Bag
Kase KW Revolution, Wolverine, and Skyeye 95mm magnetic filters (sold separately) can attached to the front of the holder

The Kase stackable ND filter Master kit includes the Stackable ND filter holder and four color-coded ND filters (ND2 0.3 1-stop, ND4 0.6 2-stop, ND8 0.9 3-stop, and ND64 1.8 6-stop). Each filter can be used individually or filters can be combined to increase the number of stops.

The filter holder attaches magnetically to the included 82mm Armour adapter ring, and traditional screw-in step rings are included for 67mm, 72mm, and 77mm lens sizes. The holder also features a locking tab that will keep the stackable ND filters from sliding out of the holder, and 95mm magnetic filters (sold separately) can be attached to the outer side of the filter holder.

Ships in a protective filter bag.